General considerations regarding your empowerment journey

Empowerment refers to a set of skills and abilities that allow you to act with autonomy to make decisions, to have control and influence over them, to perceive yourself as effective in the actions undertaken, and motivated to act, create and be part of the energy system For more information about empowerment, please click on HERE. These skills and capacities fluctuate between the individual and the collective when:
You act collectively and participate in internal decision-making processes in certain organisations and in the wider energy system.
You mobilise resources (e.g., strategies, qualities, structures or events to respond to a specific problem) to, as a community, group and also individually, take control and make decisions on issues that affect your life and that of your community (e.g., developing awareness of their views and rights) and society (e.g., addressing structural inequality, increasing agency and decision-making capacity, devolving power from institutions to communities).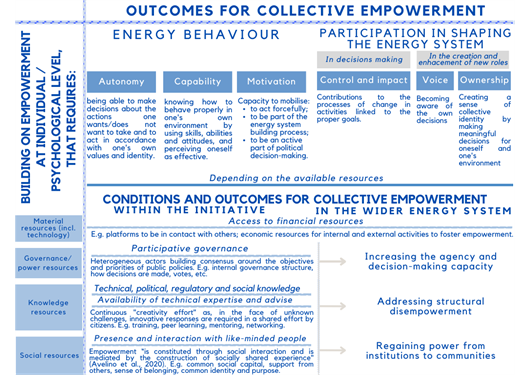 Please click HERE to start your empowerment journey with a series of questions about yourself and your motivations. And then, let's focus now on how to foster your individual and collective empowerment. Please, select your choice: