The Faculty of Education Sciences and the Campus Sustentabilidade of the University of A Coruña (UDC) organised in Friday, 11th February 2022 (11 am - 13.30 pm) a Galician Regional Workshop, held in hybrid mode (combining face-to-face with people connected by TEAMS). The UDC team was in charge of exploring the concept of energy citizenship in Galicia – as one of the seventeen autonomous communities that make up Spain - and the factors that act as facilitators or barriers to greater involvement of citizens in decision-making regarding a new sustainable energy model in our territory. The purpose was twofold:
to generate a critical debate among various experts and professionals in Galicia on the empirical manifestations of energy citizenship, and
to refine the ideal typologies based on the proposals of key informants.
The literal translation on ENCI in Spanish is "Ciudadania energetica", a term that is easily understood by workshop participants but not yet used extensively. Some participants even referred to their lack of knowledge about the term, compared to other more common terms such as "energy sovereignty", "energy saving"... or stressed that although it can be understood in various ways, "apparently, there is still no official definition in Spain, but almost in Europe". Likewise, it is attended to equate this concept with that of energy community, expressly alluding "to Directive 2019/944, which defines what a citizen energy community is, beyond the fact that this concept at the national level is not yet included in any standard, is it not? but that of renewable energy community".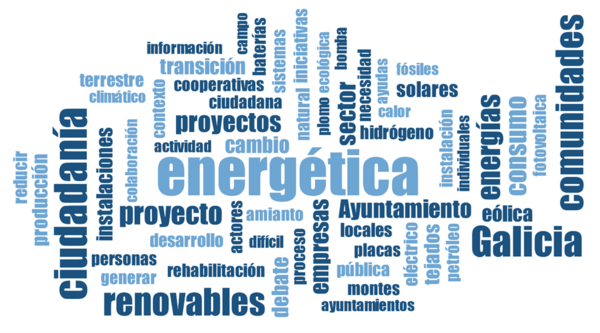 As the participants' high level of knowledge on the topic (more or less explicitly) and their interest in introducing small debates on key aspects of regulation and governance of energy citizenship enriched the debate with a diversity of opinions and positions more focused on the political, business, social and/or directly citizen-centred spheres. Participants engaged in an open and constructive critique of the different ways of understanding and approaching energy citizenship, which was concretised into three key points in a subsequent analysis:
The main understanding of ENCI is associated with the creation of energy communities, especially around the production and consumption of renewable energies, in transformations of land use, in communities of owners of small mountainous land, that are ideal for the creation of such communities.
The geographical, climatological and social characteristics of the Galician context provide optimal conditions for the development of grassroots initiatives grouped mainly under the concept of "energy communities"; but also, these characteristics (e.g. geographical dispersion) prevent the use of some types of renewable energies such as heat pumps, as there is insufficient voltage in the power line.
Galicia is at an incipient stage in the development of more transformative typologies of ENCI, with a more pragmatic or reformist perspective still prevailing, with a low level of commitment (or dependent on immediate incentives), although with a clear intention towards achieving more radical change.
Some of the typologies of the conceptual framework were clearly identified in the discourse of the participants, as well as in the examples provided by them. In other cases, it was observed that the participants' discourse hinted at latent forms of energy citizenship, which we tried to capture and analyse together with the proposals made by each participant. In this sense, it was observed that, when it came to understanding the typologies on the part of the participants:
They found it easier to understand and deal with the differences between what is an individual perspective and what is collective, although most focused on examples of the latter.
They found it more difficult to differentiate between the concepts of transformative and reforming NCAs, perhaps because they analysed the examples from the perspective of their chances of success in terms of legal, administrative, bureaucratic requirements... and not so much in relation to the substance or basis underpinning such initiatives (e.g. energy communities).
Some forms of ENCI present in the typology, such as organisational ones, did not appear in the debate, although the role of organisations such as public institutions or energy companies as collective actors was pointed out as important.
In short, the discourse of the actors and experts offered a vision of the switch from the passive consumption model towards prosumerism (production and consumption of goods and services), especially when it comes to making improvements or designing living spaces that reduce carbon emissions, encourage self-consumption... in individual homes. However, it is no less true that many of the initiatives linked to deep environmental sustainability (transformative) and shared by citizens (collective) occur before their regulation at the legislative level, which hinders or reduces their chances of receiving the necessary economic and social support to develop effectively and/or last over time.